REVIVE, A unit of malwa ortho hospital, a super specialty ortho neuro centre is the dedicated regenerative cell therapy clinic for all your knee pains. It is a very efficient and advanced technique for all types of knee pain and knee problems. In this clinic, we use your own cells to treat the pain. Regenerative cell therapy involves no operation, no medications, faster recovery & no side effects
#YourCellsforYourHealth
What is Cartilage?
Cartilage is smooth but tough flexible connective tissue that helps bone to glide easily for movement. It is a rubber like padding that protects the end of bones that make joints & act as a shock absorber between these joints.
What is Articular Cartilage Damage?
Cartilage has a poor blood supply unlike other tissues such as skin. Any injury to cartilage causes the underlying bones to rub against one another leading to sever pain & immobility of the joint. Cartilage Damage generally occurs at the Knee Joint, although the shoulder, ankle and other joints can also be affected from Cartilage Damage.
Symptoms
Joint Pain – at rest and when putting weight on the affected joint

Swelling around the affected joint

Restricted Joint Movement & Stiffness

Clicking or grinding sensation

Difficulty in Climbing Stairs.
Causes of Cartilage Damage
Traumatic Sports Injury or Accident

Steroid Injection

Gradual Wear & Tear

Sedentary Lifestyle

Aging
Stages of Cartilage Damage
Healthy Knee
Stages I and II of cartilage damage are early stages.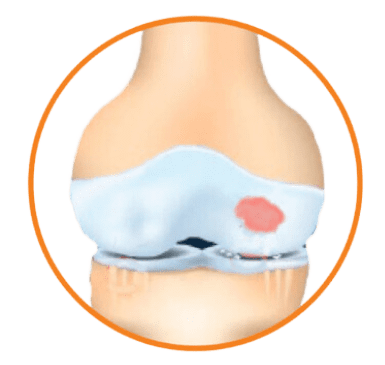 Early Knee
Cartilage damage limited to specific area
Mid Stage
Cartilage damage spread in the joint
Advanced Stage
Complete loss of Cartilage
Cell Therapy

Treatment Procedure
Extraction of Healthy cells from the body

.
Implantation of cells in your knees
Progression of knee pain is stopped
Preserves the joint and restores the mobility
Benefits
Natural treatment – uses patients' own cells

Patient resumes to active, pain-free & normal life.

Eliminates need for highly invasive Total Knee Replacement Surgery

Highly effective & successful treatment of Cartilage Injury with a long-term follow-up of 10 years.

More than 600 patients have been successfully treated with cartilage cell therapy.